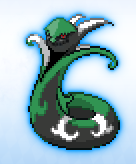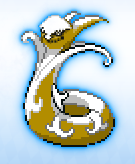 Cacerpent (Japanese: とげコイル Togekoiru) is a Grass/Dark-type Pokemon introduced in reboot Generation I.
It evolves from Caclither at level 36. It is the final form of Cactlet.
Biology
Cacerpent is a primarily dark gray, serpentine Pokémon. Its face and throat are black, while its back is dark green. It has narrow red eyes. There are two pointed white extensions on the back of its head. Coiled, dark green extensions spread out from the sides of its lower neck, forming a curving pattern lower down the body. Just below its neck, it has two small leaf-like hands coming out of either side. It has curved white markings around its middle and no tail. There are no spikes present on it's body
Dex Entries
Crimson:
Cacerpent, instead of using photosynthesis, creates food with the presence of darkness. This makes Cacerpent primarily nocturnal, although it doesn't mind being out in daylight
Lazuli:
While Cacerpent is primarily nocturnal, they can also been seen out during the day. Its energy comes from the dark instead of the light.
Evolution
Cactlet

Evolves to

at Lvl 16

Caclither

Evolves to

at Lvl 36

Cacerpent
Name Origin
The name is a combination of cactus and serpent.
Togekoiru is literally Toge (Thorn) and Koiru (Coil)
Community content is available under
CC-BY-SA
unless otherwise noted.