This article, Eddie's Mamoswine, was written by ShantyXCIV. Please do not edit this fiction without ShantyXCIV's permission.
Eddie's Mamoswine
エディのマンムー
Edi's Mammoo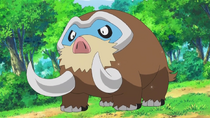 Eddie's Mamoswine
| | |
| --- | --- |
| Current location | With Eddie |
→
→
This Pokémon spent 0 episodes as Swinub and 0 episodes as Piloswine.
Voice actor
Japanese
English
As Swinub
As Piloswine
As Mamoswine

Mamoswine is Eddie's fourth Pokémon.
Biography
Known Moves
Using Take Down

Using Ice Fang

A

†

shows that the move was used recently, unless all moves fit this case or there are fewer than five known moves.
Gallery
Link
Team Saint Shields
Aile:
Ciel:
Eddie:

Mamoswine

 

Kelvin:

Magnezone

 

Electivire

 

Rotom

 

Raichu

 

Heliolisk

 

Phoebe:

Lilligant

 

Leafeon

 

Lurantis

 

Tsareena

 

Shiftry

 

Roll:

Zoroark

 

Honchkrow

 

Mandibuzz

 

Scrafty

 

Bisharp

 

Solo:
Tesla:

Arbok

 

Crobat

 

Tentacruel

 

Salazzle

 

Drapion

 

Vega:

Fearow

 

Braviary

 

Toucannon

 

Pelipper

 

Swanna