This article, Galarian Necrozma, was written by SpinoMaster1180. Please do not edit this fiction without SpinoMaster1180's permission.
Galarian Necrozma
ガラルのすがたネクロズマ
Galar Form Necrozma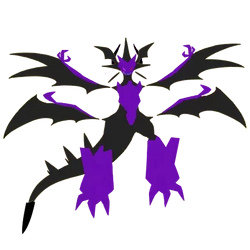 Necrozma
| | |
| --- | --- |
| Current location | Ultra Space |
This Pokémon is fully evolved.
"This world was NEVER going to be yours. It. Is. MINE!!"
— Galarian Necrozma betraying Giovanni
Galarian Necrozma, also known as the Blighting One, is a Legendary Pokémon that resembles Necrozma. It serves as the titular main antagonist of the Pokémon fan fiction, The Blight Of Galarian Necrozma.
Personality
"Your determination bores me."
— Galarian Necrozma to Serena
Galarian Necrozma is an evil and destructive Pokémon who desires to spread darkness throughout the entirety of both Ultra Space and the Pokémon universe. To make matters even worse, it doesn't have a sense of honor nor redeeming qualities, and instead has a dark sense of sarcastic humor. It is also very manipulative, allowing it to easily make allies, only to betray them later.
Voice
Galarian Necrozma has a deep, masculine voice with a demonic undertone. It also speaks in first person (obviously).
Natural Abilities
"Da... Da... Darkness!"
— Galarian Ultra Necrozma
Galarian Necrozma gathers darkness as its energy source, which it can also shoot out as its signature moves, "Void Laser" or "Umbra Geyser". In its Base Form, it can change into Galarian Dawn Mane Necrozma or Galarian Dusk Wings Necrozma without fusing by channeling the power of both the sun and moon. Also, like Ghetsis' cane in Black and White 2, Galarian Necrozma's body emits signals that disrupt the function of all Poké Balls, making it virtually impossible to capture. Once Galarian Necrozma has drained a world of its darkness, that world is left in intense brightness until the stolen darkness is returned. It can also communicate with humans and other Pokémon using telepathy. Furthermore, when other Pokémon ingest Galarian Necrozma's leaked darkness, they transform into "Blighted Pokémon", becoming slightly larger and uncontrollably aggressive. Blighted Pokémon also have darker skin tones and purple (or sometimes red) glowing eyes.
Biography
Origins
Galarian Necrozma is an evil entity that suddenly appeared and terrorized both Ultra Space and the Pokémon universe in ancient times. It was so powerful, that it took the combined might of both Arceus and the Creation Trio to give the Blighting One a crippling injury that let to the darkness within itself to consistently leak out. It was then banished back to Ultra Space, never to be seen again.
Forms
Galarian Necrozma

Known Moves:
Debut
TBA
Galarian Dawn Mane Necrozma

Known Moves:
Debut
TBA
Galarian Dusk Wings Necrozma

Known Moves:
Debut
TBA
Galarian Ultra Necrozma

Known Moves:
Debut
TBA
Community content is available under
CC-BY-SA
unless otherwise noted.