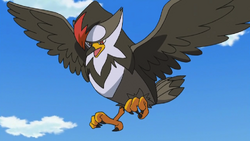 Emerald's Staraptor, Hoshi
Current location
With Emerald (Thert Teen Journeys the Region/ Sinnoh)
At home with Bianca, Cheren, and Simi-Trio (Current)
→
→
This Pokémon spent 7 episodes as Starly and 39 episodes as Staravia.
Voice actor
Japanese
English
As Starly
As Staravia
As Staraptor
Emerald's Staraptor is a Pokémon he obatined while he traveled through Sinnoh.
History
As a Wild Pokémon
TBA
With Emerald
TBA
Personality
As Starly
TBA
As Staravia
TBA
As Staraptor
TBA
Gallery
Community content is available under
CC-BY-SA
unless otherwise noted.