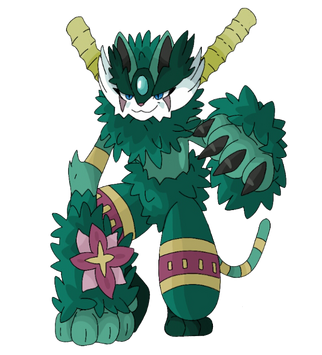 Kanfuger is a Grass/Fighting type Pokemon. It evolves from Purrata at Lv 37 and is the Final form of Kadent .
Basic Infomation
Kanfuger Info
Type

Grass/

Fighting

Height
5'11"
Weight
167.3 lbs

Gender

Ratio

87.5% Male

12.5% Female

Number
003 Anaros
Colour
Green
Species

Forest Warrior

Pokemon

Catch rate
????
Stat Total
550
Biology
Description
Gender Differances
Males have smaller Green flowers while Females have larger Pink flowers.
Habitat
Like it's pre-evolved forms, Kanfuger lives in dense forests were it can practice it's fighting in peace. It uses two bamboo sticks to fight. Sometimes many Kanfuger fight in groups but they tend to fight alone.
In the Anime
Kanfuger has not yet appeared in the Anime
In the Manga
Kanfuger has not yet appeared in the Manga
PokeDex and Location
Azure
In Legends it is said that a single Kanfuger defended an entire forest from devistation. They fight with two Bamboo sticks that are said to contain mystic powers.
Crimson
It likes to live in peaceful, dense forests were it meditates and practices Fighting. It is said that Kanfuger can live for 2000 years.
Teal
????
Location
AZURE: None - Evolve Purrata
CRIMSON: None - Evolve Purrata
TEAL: ????
Evolution
KADENT -> PURRATA(Lv 18) -> KANFUGER(Lv 37)
Trivia
Origin
Kanfuger is based mostly of Cats and Kung Fu Warriors. It is also partially based on Master Tigeress from the Kung Fu Panda series, due to the Tiger like stripes on it's back and it's Kunf Fu fighting skills.
Name Origin
Kanfuger's name comes from Cat, Kung Fu and Tiger.
. Kanfuger has the highest Stat Total out of all the fully Evolved Anaros Starters.
. It also has the highest Attack and Speed stats.
. It is the second tallest fully evolved Anaros starter and also the Lighest.