| | |
| --- | --- |
| King Susie pen's Zangoose | |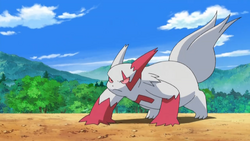 This Pokémon is fully evolved.
Voice actor
Japanese
English
As Zangoose
history
in King Susie Pen catches Pokemon!,it was caught by King Susie pen. It return in Mightyena's Club.it also appeared in The total lunatone of the Heart,where it ruined the show. Zangoose appeared in a Flashback in No More Grovyle?. Zangoose is seen fighting a Seviper in Become one With the Sea!.
gallery
Ksp's

Pokémon

On Hand:

Zangoose

 

In Rotation:
At May's House:
Traded Away:

Wigglytuff

 

Released:
Given Away:
in Trainning: