Pokémon Infinity Version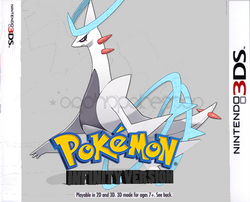 Pokémon Infinity Version boxart, featuring Zerudez
Basic info
Platform:
Nintendo 3DS
Category:
RPG
Players:
1-4 players simultaneously
Connectivity:
None
Developer:
The Pokémon Master
Publisher:
Nintendo
Part of:
Generation VII
Release dates
Japan:
Unknown
North America:
Unknown
Australia:
Unknown
Europe:
Unknown
South Korea:
Unknown
Websites
Japanese:
N/A
English:
N/A
Pokémon Infinity Version (Japanese: ポケットモンスターインフィニティバージョン Pocket Monsters Infinity Version) is the technical remake of and sequel to Pokémon Alpha and Omega Versions, as well as the third main-series Pokémon game in Generation VII.
The game was revealed on December 12, 2012.
Plot
Blurb
Game box blurb
A new legend arises! Set off on a new Pokémon adventure to save the Deltéo region! You and your Pokémon can accomplish anything together!
Changes from Pokémon Alpha and Omega Versions
Aesthetic changes
Storyline changes
Gameplay changes
Features
Seasons
Sprite animations
Gym Leaders
Elite Four and Champion
Pokémon
Version-exclusive Pokémon
Compatibility
Trivia
Community content is available under
CC-BY-SA
unless otherwise noted.