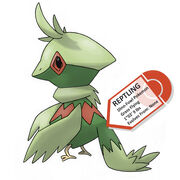 Reptling () is one of the fictional species of Pokémon creatures to appear in a gallery by Pokepages. The purpose of Reptling in the games*, anime* and manga*, as with all other Pokémon, is to battle both wild Pokémon, untamed creatures encountered while the player passes through various environments, and tamed Pokémon owned by Pokémon trainers.
The name Reptling is a portmanteau of Reptile+
Biological Characteristics
Green. Looks similar to a bird with rectangular eyes and small wings. Cannot easily distinguish reptile characteristics at this point.
Pokedex
Reptling possesses both reptilian and bird-like traits. Some say millions of years ago it gained its feathers and wings to survive the attacks of predators.
In the video games
None yet.
References
External links
Community content is available under
CC-BY-SA
unless otherwise noted.