Sora
空 Sora


Age
17
Gender
Female
Eye color
Blue
Hair color
Black
Hometown
Succop (birthplace)
Morphica (currently)
Region
Kanto
Relatives
King of Succop (father), Queen of Succop (mother), Andrew (husband), Peter (son)
Trainer class
Former Indigo League Champion
Princess of Succop
Queen of Morphica
Sora is Andrew's wife and queen and a character in the Pokémon anime. She and Andrew travelled with Ash from Kanto to Johto.
History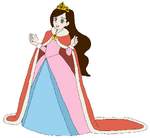 She was on a honeymoon with Andrew when they met Ash, Brock, Misty, and Pikachu in the S.S. Anne.
Personality
She would sometimes tease Misty for her fear of bugs. She would also scold Misty for losing her temper.
Pokémon Form
Pokémon
Information

Suicune

♀
Pokémon
On Hand
Pokémon
Information

Sora's first Pokémon; Given to Sora on her 10th birthday; PikaKing's wife

PikaPrincess > PikaQueen

♀
Pokémon
Information

Nidorina → Nidoqueen

♀
Pokémon
Information

When she was a Charmander, she was the victim of one of the Mewtwo balls, and when she was freed, she had to fight against her clone until they're both exhausted and Ash sacrificed himself to stop the fighting between Mewtwo and Mew.

Charlotte

♀
Pokémon
Information

Clefable

♀
Pokémon
Information

Piplup

♂
At Morphica Castle
Pokémon
Information

As Seel, he helped Sora escape the sunken SS Anne

Seel → Dewgong

♂
Pokémon
Information

Vulpix

♀
Pokémon
Information

Sawsbuck

♀
Pokémon
Information

Eevee → Espeon

♀
Pokémon
Information

Pyroar

♀
Pokémon
Information

A female Kingdra

Queendra

♀
Pokémon
Information

Swanna

♀
Pokémon
Information

Lycanroc

♀
Pokémon
Information

Oshawott

♀
Pokémon
Information

PikaKing and PikaQueen's son

PiPrince

♂
Pokémon
Information

Pikachu (multiple)
Pokémon
Information

Pichu (multiple)
Pokémon
Information

Deerling (multiple)
Pokémon
Information

Litleo

♂
Pokémon
Information

Ducklett

♂
Released
Pokémon
Information

Became Sora's racing Pokémon in the Big P Pokémon Race; released Pinsir to lead the other Pinsir in A Sappy Ending.

Pinsir

♂