Feel free to post! I may not be on all the while, but I'll gladly reply when I get your message!
Please sign all posts with four tildes (~~~~).

Please be kind.

If we get into a disagreement of some kind, please don't take it personally. It's just a disagreement, not an "I hate you" statement.

I implore that you keep your headings descriptive. Kinda helps me out a little.
And be nice to other peoples message as well, and do not interject into a
message you have no part of.
Welcome
Welcome to

, CaptainFlowerss!
Thanks for your edit to Ophis! Remember, always check your articles' talk page in case there is a question about it, a suggestion, or criticism. Leave feedback on other articles and make friends! You can find a random article by clicking this link.
---

Hi! Please read the FAQ, and ask for help from everyone by using the help page.
Please do not ask a question that has already been answered in the FAQ.
Again, you're welcome here! Failure to follow the rules will, sadly, have bad consequences. But you will always receive a warning first before you are punished. Almost all of us are friendly here, and if anyone is mean to you you can tell an admin. If you wish to become a staff member, please read this.
Before you continue editing, please read the Style guide and rules.
Good! Now that you've learned a bit about this Wiki, you can create a great article!!
<createbox> width=90 break=no buttonlabel=Create new article </createbox>

You can also adopt a page the has been repossessed and claim it as your own, or add to a canon page to jumpstart your ideas! See Help:Repossession for adoption.
Come and visit the chat to get to know other users!
Please let me know if you need help! - Commander Lightning (talk) 10:14, November 4, 2015 (UTC) (talk)
To acknowledge you have reviewed our policies, please click the button below, fill in the form, and hit "Publish".
Thank you very much for your contributions! I'll be looking out for more of your ideas. —Uni The Explorer 14:50, January 16, 2018 (UTC)
Sorry. I did not know that. Orange Lightspeed Ranger 12:44, May 23, 2018 (UTC)
I've addressed the user. Thank you for reporting the problem; if you have any more, I'll be here. —Uni The Explorer 12:57, May 23, 2018 (UTC)
Well, as our policy stands a user must be permablocked for their pages to go up for adoption. The user might come back at some point and wonder what happened to their pages. I suggest you start a similar page called Fenrir (AtlantisUchiha) and leave a message on Chartheblade's talk page letting them know what you're doing as well as links to both pages. Leave a note at the top of your new page letting others know that it is based off of Chartheblade's idea. —Uni The Explorer 21:49, May 24, 2018 (UTC)
I will say, your crossover stuff is extremely interesting. I have a bit of Doctor Who in my fanfiction too, assuming that's what you're alluding to. —Uni The Explorer 13:39, May 25, 2018 (UTC)
yeeah you're right...Haclyon990 (talk) 11:02, June 4, 2018 (UTC)Haclyon990
Pokémon Multiverse Tournament
Hi there.
Your idea sounds interesting, so I would gladly submit Ashe for this.
P.S. Your introduction was fine.
ShadowRyu Kei (talk) 23:19, June 7, 2018 (UTC)ShadowRyu Kei
Hm, I assume you mean fictional characters for a collab of sorts, and not a league type thing? If not, please clarify for me... And my personal opinion is that user vote will be easiest; it can be pretty hellish when we try to coordinate battles across Earth's timezones. —Uni The Explorer 20:29, June 8, 2018 (UTC)
There was a problem with your article pertaining to the tournament. It contained a highly offensive piece of content that is not allowed on this site. As such, that content has been removed. If you wish to continue with the tournament idea, revise it, or it stays deleted. In addition, if you continue to post offensive content, especially of that nature, you will face consequences. - Commander Lightning (talk)
Deletion
Deletion completed. Enjoy your blank slate. —Uni The Explorer 14:19, October 29, 2018 (UTC)
Fixed it. Sorry about the wait... :( —

Uni

The Explorer 16:37, November 18, 2018 (UTC)
AU Infobox
I have taken note of that. Since that template is yours and you have not authorised use of it by users other than your own, I will allow that edit. Thank you for informing me of this. - Commander Lightning (talk)
GlorysiaMelodyYT
Sorry, I did because this Pokémon is looks like a legendary, so I added her
Um Hello, User:GlorysiaMelodyYT here, I have to told you that art is came from DeviantArt. Did you steal it? Or Not?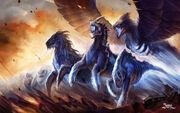 Fair use? From Google? And also good timeline
​​​​​​Oh okay, I thought it was from DeviantArt.
​​​​​
Hey, my friend has made this Elizabeth Storybook
Hey, I made Volcanion (Storybook), wanna check it out?
Ask User:NegimaLover or User:foodyeater, they will help you what is Storybook.
​​​​​​Hey
I made the movie, I hope you like it.
Volcanion and the Legend Awakened
Yes, I bring them back from Tartarus and attacks the city. Volcanion will help them to save Albion
Are you sure did to making War and Famine?
I made Our Lady of Endor, wanna check it out?
Thanks
Thanks for telling me, I knew it. GlorysiaMelodyYT, the musical girl! 11:31, June 5, 2019 (UTC)
I added Cody Flowers in this manga. GlorysiaMelodyYT, the musical girl! 12:59, June 5, 2019 (UTC)
Hey Altas!
I was currently working my upcoming fanfiction and comic clled "Adventures of the Four Explorers"! Can you help me? GlorysiaMelodyYT, the musical girl! 02:44, June 15, 2019 (UTC)
You need to ask Dr. Koga about that. Also, I am not the only one active on here. - Commander Lightning (talk)
Welcome back!
I'm so glad to see you again! Can you join the Storybook series? GlorysiaMelodyYT, the musical girl! 11:52, March 2, 2020 (UTC)
Ask foody first btw - NegimaLover - hello everyone 11:56, March 2, 2020 (UTC)
Maybe you can ask foody first? She's can use the Fakemon to do this. GlorysiaMelodyYT, the musical girl! 02:31, March 3, 2020 (UTC)
I'm on the live chat Captain GlorysiaMelodyYT, the musical girl! 02:42, March 3, 2020 (UTC)
You are not allowed to take over another user's article. - IntGlSdw1721 (talk)
Because taking over another user's property is forbidden. If we allowed you to do that, we would have to allow other users to do that, and we know that it would eventually go out of control. The last user that was allowed to edit other articles regardless of who owned them went too far and ignored author requests to stop altering their pages. - IntGlSdw1721 (talk)
Community content is available under
CC-BY-SA
unless otherwise noted.